We opened
our new Etsy store
a few months ago. It has been loads of fun for the kids to visit the local shop and learn how to bead and macrame. They love making jewelry! It really is an amazing art. No two items are exactly alike.
Meet Eliab and his beautiful wife...he is one of the main designers and artists of our shop! He is from the Kuna tribe and has learned his art from his parents, grandparents, uncles, and aunts before him! He even knows his ancient Kuna language as well as Spanish! His cousin sells his jewelry and art at the local Tuesday farmer's market in Boquete!
The Panamenos here are so talented you can even have a name beaded into a bracelet! We have lots of new items to share and it is high time for a giveaway! Check out some of the new items we will be adding to our store this week!
Hand painted feathers...
Beautiful macrame necklaces with stones and other types of necklaces made out of local seeds and tagua .
What is tagua? It is a nut that comes from a tree that is similar to a palm tree. It is also know as a kind of ivory. This is what the seeds look like before they are shaped and shined. ( Sorry the teacher in me couldn't resist to give you a little tagua lesson:)
Here is what they look like after they are prepared for jewelry.
Here are some beautiful butterfly necklaces...(perfect for our butterfly unit:)
Hand beaded bracelets...
Beautiful hand made molas...
Now for our giveaway! You can win one of these hand- made Chaquira glass beaded bracelets. These are made by local Indigenous Indians of Chiriqui, Panama. One bracelet can take many hours of work. The triangular pattern is representative of the mountains that surround the area and are a beading pattern of the Ngobe. The flat Panama and shape patterns are characteristic bead work of the Kuna Indians.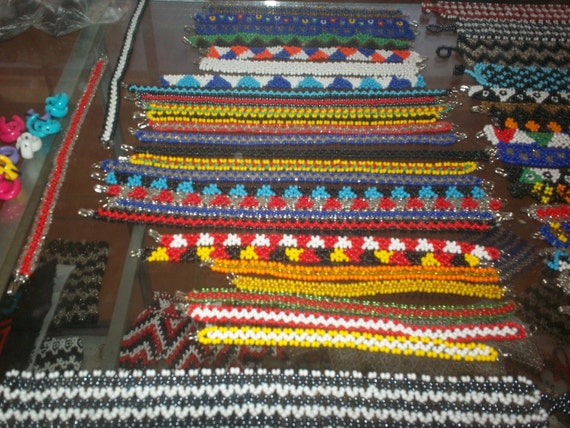 Which one is your favorite? ( I am kind of partial to the flowers:)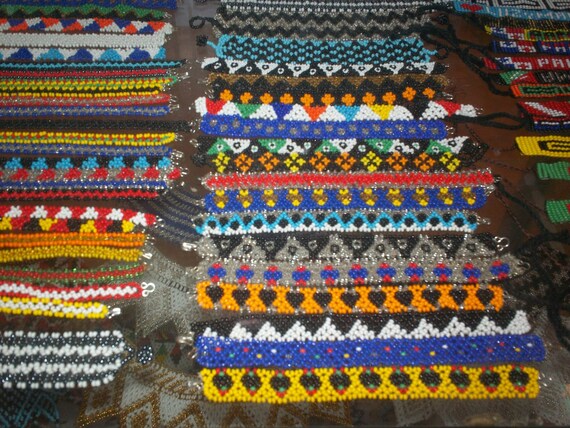 Can't you just see yourself sharing some of this amazing art with your students, friends, family, &...????
Every time I see these beads it reminds me of the beads Laura would find on the ground in The Little House on the Prairie books!
I love the fact that the Indians here are not assimilated into the culture completely. They still walk around town in their traditional dress and some still can speak their tribe's language! Not only that, many are still artists making their crafts that their ancestors have made for generations before them! I am so glad to know these amazing people and to be able to share their art with you!
So what are you waiting for ??? Enter the giveaway so you can win!