We have a
W
i
n
n
e
r
!
Elle Bousles

won a

Pulsera Chaquira ( Beaded Bracelet)!
Congratulations Elle!
Thank you all for entering and supporting our new Etsy Shop!
More arrivals will be coming soon AND we will be taking custom orders!!!:)
If you like molas and you want a particular color, pattern, or picture you can just ask!
We can also custom make our beaded bracelets, purses, and jewelry with any color or name on them! Isn't that cool???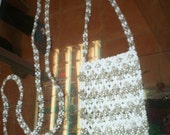 Don't be sad if you didn't win...we will have more and there are a few other giveaways going on that I would like to share with you:)
This giveaway ends at 11:59PM EST on 6-7-13. Feel free to enter yourself! Just click the picture above!