I am excited to share The Old Schoolhouse Magazine and this month's edition (November/December Issue) with you today. I love flipping through magazines and looking at the ads and pictures; don't you? This magazine brings back many fond memories. It is like spending time with an old friend. Throughout the last ten years of my homeschooling journey, this magazine has been a source of information, encouragement, and inspiration. They now have a
wonderful website
with all kinds of great resources.
I would like to take you on a journey down memory lane. When I was pregnant with my fifth baby, the ages of my other children were 7, 5, 3, and 1. I was still very new to homeschooling and was feeling a little discouraged. We lived in the state of Ohio, where you can easily start to feel cooped up during the winter months. It was cold outside and the ground was covered in snow. I was feeling tired and lacked enthusiasm.
During that time a good friend surprised me with a bag full of homeschool materials. I was so excited; in the bag I found manipulatives, art supplies, books and The Old Schoolhouse® Magazine. I was then inspired to teach my children and have some fun.
A fond memory I have of that time is of my son and I at the kitchen table. He was using the art supplies while I was reading the magazine. I was in the middle of an article, when he wandered down the hallway to continue painting. The only problem was that he left the paper behind and painted his feet and my carpet instead!
There were many occasions when I would find time for myself, I would grab a warm blanket, hot tea, and a copy of The Old Schoolhouse® Magazine. It was always encouraging to read stories about other home school families. The curriculum ads were almost as good as seeing the real thing at the homeschool convention. I have always had copies of this magazine sitting in a basket or on a nightstand throughout the years.
Fast forward to today: we have six children ages 15, 13, 11, 9, 7, and 5. Also, we live in Panama. The only way I get to read this magazine now is on the computer. So many times in the past I found myself without encouraging reading materials. Not only is it difficult to find some (in any language) but it is practically impossible to find any about homeschooling. With the increase of technology, it doesn't matter where you are in the world; you can still find the encouragement you need right at your fingertips. All you have to do to read this online version is go to
www.TOSMagazine.com or to find apps for digital devices you can go to
www.TOSApps.com
.
As I have been flipping through this month's magazine, I, once again, found comfort with an old friend. There is some useful information about the history of holiday foods like pumpkin pie, turkey, stuffing, gingerbread men, fruit cake, and candy canes. Do you know that Queen Elizabeth I would give important visitors gingerbread likenesses of themselves as gifts? You can read more about the history of these important holiday foods
here
.
I also found some encouragement and inspiration for our homeschool in this month's edition. I have already been teaching my children to cook, shop, and clean. In the article,
"Learning to Manage a Business by Managing the Kitchen"
I gleaned an idea. It elaborates about teaching project planning, budget, teamwork and maintenance in the kitchen. What a novel idea; teaching the kids to run the kitchen like a business. I may be able to incorporate this idea for our next family meal.
After 15 years of homeschooling, I still appreciate magazines like this. Below is a picture of the current issue. Feel free to go to their website and get acquainted. While you are there you can even
subscribe
to the printed or digital version of the magazine.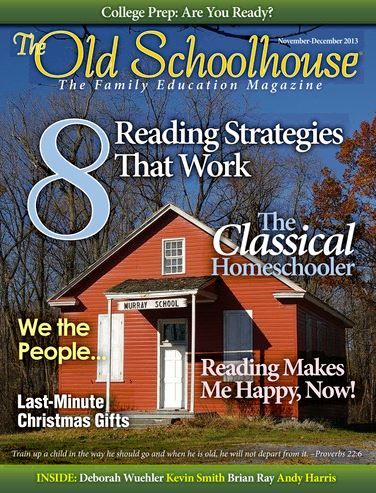 Have you found a good source of encouragement for homeschooling or teaching? Where do you go when you are looking for new ideas? I would love it if you could share that or any other thoughts you might have in the comments section below. You can also read more reviews here:
www.SchoolhouseReviewCrew.com.
Thank you for traveling with me down memory lane. I hope you find some time this week to enjoy a good magazine.