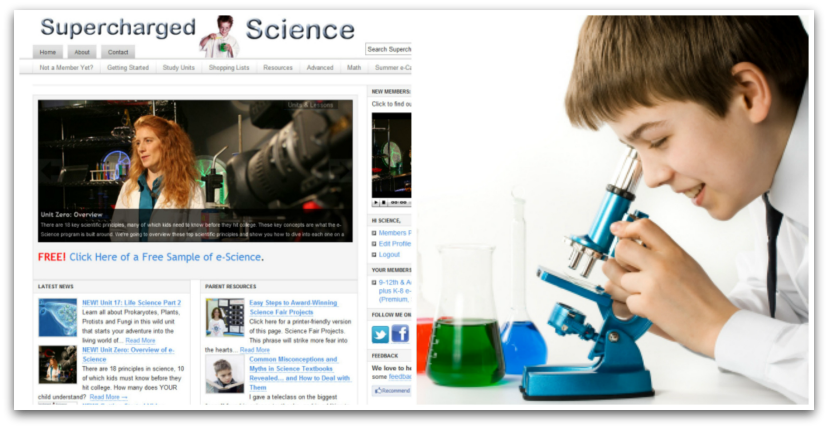 For the past month we have been using the
e-Science Premium Membership from Supercharged Science
in anticipation for this review. You can find Supercharged science at their website:
http://www.sciencelearningspace.com/
. This e-science curriculum has a wide range of subjects to pick from. Topics include; mechanics, motion, matter, energy, sound, astrophysics, chemistry, light, electricity, magnetism, alternative energy, thermodynamics, electronics, life science, earth science, biology, and more. It is organized by topics or you can also view the topics by grade level. One of my favorite things about this curriculum is that it is very kid friendly.
We have been using this for our homeschool science. I have allowed the kids to just go to the website and pick whatever subject they are interested in. Each unit starts with a simple introduction and video.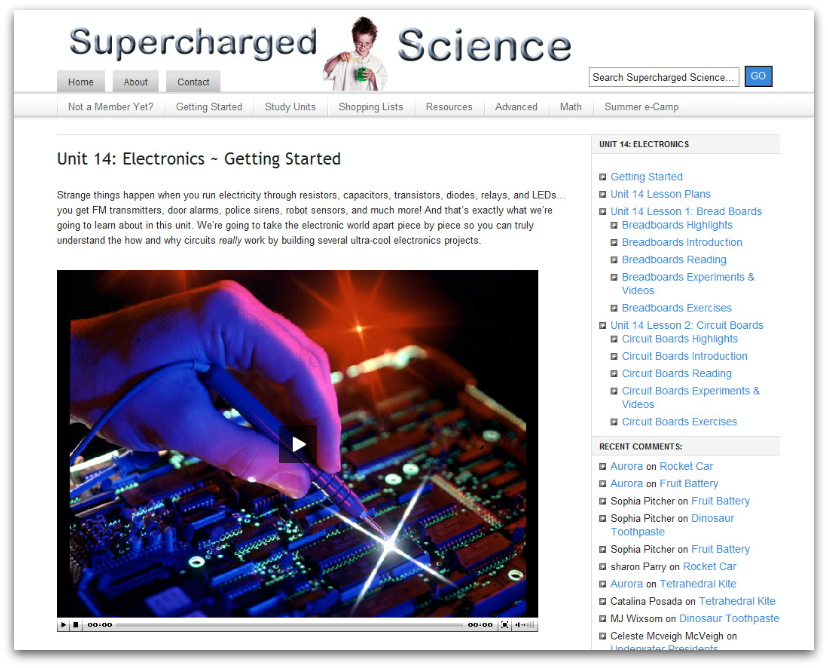 As a homeschool science curriculum it can be used as is or planned out by you the teacher. The website includes lesson plans so you can be as organized or as flexible as you would like. This last month, I chose to go with a student delight-directed approach. That means that they got to pick whatever their little hearts desired for science from the e-science website:)
The first science experiment I chose as an introduction to the website was the "soap in the microwave" experiment. It was fun to see the kids get excited about the changes in the soap after they put it in the microwave. All the kids participated with "ooos and awes" as the soap changed before their eyes. We learned that the soap contains air and water vapor. When the soap was heated up in the microwave it expanded and looked like cotton. After we were done with our science experiment I printed out the student worksheet and exercises. This gave the kids some more ideas to try to see if their results would vary. It also allowed me to assess how much each child retained and understood about the experiment.
Our science experiment above is exactly what the makers of supercharged science boast of regarding their science curriculum. It captures the kids attention first with the science experiments as it is modeled on video and then the kids get to try it out for themselves. Once the kids try out the science experiments, they then start asking the "why" questions while engaging in the scientific method. They are also challenged to try different variations to see if the results change. It really does engage the students. What is really awesome though, is that it also provides the answers! No need to go searching for the answers on the Internet - it is all there for you in the textbook
PDF
download.
The next set of experiments the kids wanted to explore was in the light unit. This particular unit has 25 different lessons/experiments for the kids to try. We didn't have time to do them all but the few that we did do were very engaging. One favorite was learning about light waves and how to make their own telescopes and microscopes. We didn't have two magnifying glasses readily available so we used a pair of reading glasses and a magnifying glass. We learned about the con-vexed shape of the glass by feeling the glass itself. If you line up the thickest part of the glass (the center) it becomes a microscope. If you look at something in the distance it then acts as a telescope but the image will be upside down.
Another favorite was examining money. It was an "I spy" money activity. We didn't know there were so many hidden things in American money. The kids really got a kick out of seeing President Lincoln inside the Lincoln memorial on a penny.
Although this program is multi-sensory, most of the learners in our family are visual. Therefore our favorite part of this curriculum has been watching the videos. Aurora, the teacher in the videos, is very energetic and excited about the topics she teaches making each video not only entertaining but interesting.
For example in the light unit Aurora talks about the different wavelengths of light and as she does the camera changes the images of her in the video to red light, green light, x-ray, etc. The kids loved it and were very engaged in learning and watching the videos about the different wavelengths of light.
Hands-on e-Science Curriculum: This curriculum is designed to excite kids to learn science by engaging them in interesting content before getting into the textbook answers.
1000's of videos: The videos are kid-friendly, short, and precise. They guide the students through step-by-step hands-on activities, projects, and experiments. All videos are taught by a real science teacher.
Over 350 lessons:

The experiment lessons are easy enough for kids to do on their own. Teachers have access to lesson plans, objectives, and assessment tools.
Incorporates all 4 learning styles

: Kinesthetic, visual, auditory, and digital.
Unlimited support: Comments and questions are directly below each lesson. Responses are given on a daily basis.
e-Science exceeds most state K-8 science standards

: Complete e-Science curriculum covering K-8 science standards and then some.
Science Worksheets & Experiments: Printable textbook, quizzes, and exercises that go along with each lesson.

Pros: Child friendly, teacher friendly, many teaching options and subjects available.
Cons: Some supplies are not readily available but with some planning they can probably be easily ordered on-line. This curriculum does not present any religious views but calls itself "creation neutral".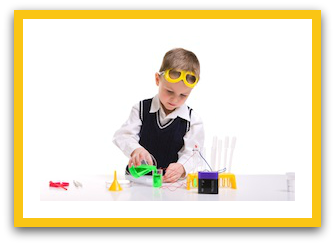 You can find Supercharged Science at the following sites:
What have you used for your Science Curriculum? Please comment below. I look forward to hearing from you:)